Pediatric Chiropractic at
Health Path Chiropractic
Medical Myth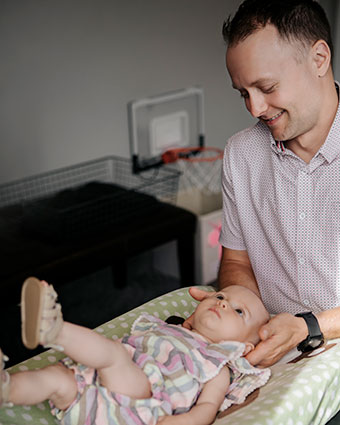 There is a myth in medicine that kids "grow out of" conditions. In reality, they don't grow out of anything-those conditions simply grow into something else. Until the underlying imbalances are corrected, physical and behavioral symptoms will continue.
For example, infants with colic, sleep issues, torticollis, ear infections, reflux and other common issues will often see those symptoms subside only to morph into chronic health, emotional or behavioral concerns later in childhood. At Health Path Chiropractic, our approach to care offers complete resolution of those common conditions so they don't turn into a laundry list of problems later on.
Be Proactive with Children
By being proactive with your child, we can eliminate the imbalances early. We have many patients who bring their kids in right after they're born, to take care of any imbalances that occur during the trauma of birth. By giving them a healthy, balanced start in life, it can save them-and the entire family-years of needless suffering.
If your kids are older, we can still correct the imbalances that are causing their issues, allowing their bodies to heal completely. We have wonderful results with many childhood issues, some of which include:
Our Guests of Honor
Babies and children have much smaller, softer body structures than adults, so adjustments are very different, with just a very light, gentle touch precisely where needed. It's very quick, totally painless and kids love getting adjusted here.
Dr. Jami is certified in pediatric chiropractic, and the whole team loves to engage and play with kids throughout the entire process, making them feel like they're our guests of honor. And there's something for every child in our spectacular play area. The only tears we've had in our office are when Mom and Dad say, "Okay, it's time to go home."
Help Your Child Get Healthy Today
Kids respond beautifully to our chiropractic care because it's a natural, gentle way of balancing the body and addressing the underlying issues. Complete our new patient application for your child today to get started.
CONTACT US »
---
Pediatric Chiropractor Lino Lakes MN | (651) 528-8260